Then My XYZ's of Excellence from J.A. Epperson Analysis & Advisory is the perfect tool for you. This book helps small business owners and department leaders provide 26 days of training that will help turn employees into well-trained, efficient leaders. The book! My XYZ's of Excellence – 26 Days to Excellence in Business Leadership and Life is the perfect training tool for anyone wanting to help their businesses grow by creating leaders instead of employees. It offers 26 days of powerful and inspiring training that goes beyond what traditional leadership books offer, making it an ideal onboarding resource for any growing team.
You won't find anything like it out there on the market today – this is an invaluable resource for anyone looking to grow professionally and capitalize on their own strengths as a leader. And don't forget – if you purchase the book, I also invite you to take advantage of my online training course with over 200 individual lessons so that you can help your team internalize the concepts and principles required to make the training stick.
Transform your team with this comprehensive guide – learn how to make effective decisions, prioritize productivity over perfectionism, manage through relationships rather than authority, develop gritty communication skills and much more. With this book as your go-to source on leadership development, take control of the success of your business today!
Get the book! My XYZ's Of Excellence – 26 Days to Excellence in Business Leadership and Life on Amazon now and then contact us directly for exclusive access to our online course materials!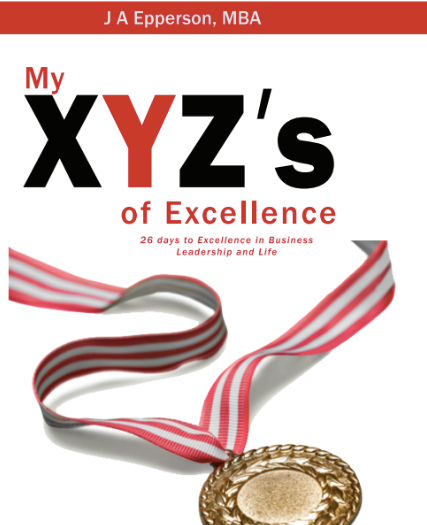 Get this book on Amazon or go directly to the publisher.
Take a look at the content by checking out this; Click Here for an eBook/Flip Book version of My XYZ's of Excellence. Remember this book was used to create an online course with interactive training just for you to provide your team an experience that is more then just reading the book. Let me know and I'll get you access jae@jaeaa.consulting